Syphon Filter 2™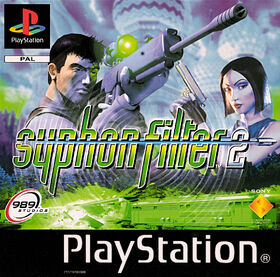 Information
| | |
| --- | --- |
| Platform | |
| Developer | Eidetic |
| Publisher | 989 Studios |
| Series | |
Syphon Filter 2 was released in 2000 and is a direct sequel to Syphon Filter. It picked up where the first game ended with Gabriel Logan leaving Kazakhstan with his CBDC partners on his way to the U.S. The game is about locating the encryption codes and discs, and most importantly, finding a cure for the Syphon Filter-infected Lian Xing.
Plot sypnosis
Gabe and Lian are now targets of the Agency after uncovering its connection to Syphon Filter. Agency operative Dillon Morgan captures Lian at the PharCom warehouses, forcing Gabe and the CBDC soldiers to rendezvous with ex-agent Teresa Lipan in Arizona. They are unable to make it before the Agency can shoot down their transport over the Colorado Rockies, so Gabe and CBDC Lieutenant Jason Chance head down the mountain in search of their plane and a box of PharCom data disks. Michael Archer of the Agency attempts to stop them at all costs. 
A group of conspirators, including Mara Aramov and Agency director Lyle Stevens, promises to deliver the virus to a rogue Chinese general named Shi-Hao. Meanwhile, Lian wakes up in a U.S. airbase where Morgan and two operatives are working with Dr. Elsa Weissinger of PharCom to extract infected plasma from test subjects. Lian learns that the other subject was Phagan, who survived his gunshot wound long enough for the Agency to take the plasma. 
Lian eventually escapes the medical building and interrogates Agent Thomas Holman to learn that Morgan is planning another operation to the PharCom Expo Center to find an decryption disk. She leaves the base in a helicopter and teams up with Gabe to battle Archer's forces. Gabe shoots Archer during his escape, and recovers the PharCom data. 
Gabe, Lian, and Teresa follow Holman's lead to the Expo Center and eliminate Morgan before he can recover the disk he sought. After decrypting the PharCom data, Teresa realizes that some information is missing. The other half must be with Uri Gregorov, Director of the Russian SVR who appeared at the warehouses before Gabe left. Since Lian and Uri know each other, they agree to meet in Moscow. 
Aramov interrupts their meeting and pursues Gregorov. Later, Lian learns he is an impostor working for Mara and trying to find the other half of the data. The man confesses that the real Gregorov is in a Russian gulag, Aljir Prison, which once held Lian. Gregorov uncovered a plot to sell the virus to Shi-Hao, so Aramov intervened. Lian goes to stop Gregorov's execution, but collapses from the virus. Gabe takes her back to the States, while Gregorov promises to handle Shi-Hao. 
Gabe and Teresa arrive back at the Virginia safehouse overseen by Lawrence Mujari, a freelance pathologist. They decide to trade the PharCom data to the Agency for Lian's vaccine. Director Stevens traps Gabe in the Agency's New York City labs, but Gabe escapes and makes Dr. Weissinger give him the vaccine. Gabe also finds out that Chance survived the mission in Colorado, and sets him free. 
Once back on the surface, Gabe and Teresa hurry back to their helicopter. Stevens and several Agency operatives destroy part of the streets to knock them into the sewers. Fortunately, Gabe and Teresa corner Stevens, and Gabe shoots him in cold blood.  
They reach the helicopter to find Chance waiting in impenetrable Agency armor. He was really working for them, and he shoots Teresa. Gabe suspected it since the Agency always knew where he was in Colorado. Both men fight, and Gabe kills the man he trusted with a special rifle that knocks Chance into the helicopter blades. It appears that Teresa has died, however. 
A news report reveals that the Agency's existence is now public, and U.S. Secretary of State Vincent Hadden promises that the government will investigate. Gabe cures Lian and makes a grave for Teresa. He, Lian, and Lawrence hold a small memorial and promise to keep fighting, while soldiers watch them from a distance. Hadden and Aramov emerge from a helicopter, and Aramov says that the Administration will soon fall allowing Hadden to become President. Although he could end it here, Hadden has other plans for Gabe.
Character
Lawrence Mujari
Uri Gregorov
Antagonists
Lyle Stevens
Dillon Morgan
Dr. Elsa Wessinger
Mara Aramov
Steven Archer
Missions
Multiplayer
Main article: Syphon Filter 2 Multiplayer
The Multiplayer mode is accesible by selecting a new game on the title screen then picking 'two players' this will bring the player to a menu where various options can be made: Armour strength, Invert Aim, Vibration, Controller Setup, map select and point limits can be changed to both players' needs, even Headshot can be calibrated on or off. Multplayer consists of a simple death match between players where whoever can kill each other to reach the set amount of points neccesary to win. There are a total of 20 Multiplayer maps with different terrain as well as an array of weapons to use and 28 multiplayer characters to choose from, ranging from recurring characters from the Syphon Filter series; however despite their differences the differences are only cosmestic and each character functions the same. initially 10 maps and 18 characters are unavailable to the player they must be unlocked on certain missions.
Multiplayer can only be played on Disc 1, as selecting a map and starting the game on Disc 2 will result in a prompt for changing discs.
Reception
Syphon Filter 2 recieved mostly positive reviews from game critics and game sites.
IGN rated Syphon Filter 2 with an 8.9 of "Great" and praised it for it's slightly tweaked gameplay, improved graphics, more missions and multiplayer mode. However it was criticized for it's familar gameplay to it's predecessor, it's trial and error trend, and confusing storyline, the IGN reviewer remarked "it's like a C+ movie script." The IGN reviewer then closed with: "So, would I would buy the game? Absolutely. It satisfies that primal videogame urge to sneak around and snipe enemies, or to simply blow them away. It's still a great action game."
Gamespot rated Syphon Filter with 6.6 of "fair" Gamespot, being less genrous, also criticized it for it's similar gameplay to it's predecesor, storyline and it's multiplayer, stating: "the control, camera angles, and overall feel of Syphon Filter don't lend themselves very well to a mulitplayer component." the reviewer closed with: "If you were a big fan of Syphon Filter, you may get a kick out of the sequel, but the lackluster mission design and super-convoluted story really cancel out the improvements to the game's control. If you missed the first game, it's a much better (and likely cheaper) game than Syphon Filter 2." Other users and critics obviously disagreed with these results by rating Syphon Filter 2 with scores such as 8.8 and 8.9, however since they are not the official reviewers of the game, their reviews will go uncredited.
One of the newest features introduced in Syphon Filter 2 was the Multiplayer game. It was considered to be an enjoyable add on by fans. More info on Multiplayer can be found here.
Development
Cast
Additonal voices:
Mike Benton
Leo Chleyapov
Chris Colon
Shawn Dobbins
Ryan Eames
Otto Halboth
Trenton Haskins
John Koller
Biraj Lala
Grant Luke
Andrei "Andy" Marcon
John Miewald
Conner Morlang
Derek Quakenbush
Shirley Tang
Jay Vo
Diana Zlatina
Roy Allen
Robert Hernandez
Chris Johnson
James Miller
Jim Wallace
Trivia
According to what Vince Hadden says in the intro. Syphon Filter 2 takes place only four hours after the Original Syphon Filter.
In the intro, Logan kills a total of eighteen Spook Commandos.
The font used for the game's logo is a slightly modified version of industria font.
Gallery
External links