Jurassic World: Dominion Dominates Fandom Wikis - The Loop
Play Sound
Syphon Filter 3™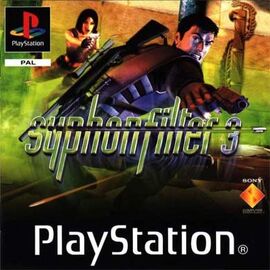 Information
| | |
| --- | --- |
| Platform | |
| Series | |
Syphon Filter 3 is the third installment of the Syphon Filter franchise. It was released in 2001.
Despite its designation as a 'third' game, the media mostly contains flashbacks and is not considered a true sequel untill the last two missions.
Plot sypnosis
Secretary of State Vince Hadden brings in Gabe, Lian, and Mujari to testify in Congress about their relationship to the Agency. He considers all three to be guilty, and questions them after they assassinate Shi-Hao from a hotel in Japan. The three do not realize that Hadden is involved in the conspiracy, and is looking for scapegoats.  
Gabe begins by describing the first Syphon Filter investigation. He and Lian went to Costa Rica to find missing Agent Ellis. When they arrive, the two see that Erich Rhoemer has ordered Ellis killed, but Gabe must continue his mission and identify what Rhoemer was doing at the drug plantation. Gabe chases Rhoemer onto an airplane despite his Agency superior Edward Benton warning against it. Gabe did not know back then that Benton and the Agency controlled Rhoemer, who escaped from the plane.  
Mujari testifies next, and tells Hadden how he once worked for a resistance during the Apartheid era in South Africa. At the Pugari Gold Mine, he discovered that mining slaves had caught a deadly plague and the mine owners were covering it up. Mujari retrieved samples and gave them to Teresa.  
When it's Lian's turn to testify, she mentions her first meeting with Gabe during the Soviet occupation of Afghanistan. Lian was working for the Chinese MSS, and Gabe saved her from an ambush. In turn, she agreed to distract Soviet forces so he could move a convoy of weapons into Kabul.  
During Lian's testimony, Gabe goes to Ireland with Mi6 agent Maggie Powers in an effort to sink a shipment of Syphon Filter. Onboard the S.S. Lorelei, Gabe plants several explosives and finds a document that will point to a virus test site in Australia. He also looks for any information on the mysterious arms consortium that controls the Agency. With the bombs set, he and Maggie leave the freighter.  
While Lian is describing how she met Elsa Weissinger at the Costa Rica mission, Gabe and Maggie fight IRA terrorists looking to take the virus themselves. Gabe uncovers a mole in MI6, Nigel Cummings, who is aiding them. He kills Nigel and secures the last viral transport on the docks. Then they sink the S.S. Lorelei.  
Back in Washington, D.C., Gabe talks about his first meeting with Benton in Afghanistan. Benton claimed to be a CIA agent transporting weapons to Afghans rebelling against the Soviets, but when Gabe and Ellis escort the convoy, the Afghans attack them. Gabe gets into Kabul and meets Lian, who sets up the diversion. However, a tank gets in their way, so Gabe destroys it. He learns that Benton was supplying arms to the Soviets, and was really an Agency operative.  
As Hadden questions Gabe, Lian teams up with Maggie to kidnap Elsa from the Australian test site. Elsa is ready to betray the conspirators since Aramov left her behind, and she has Lian assemble a vaccine for aborigines held captive by Commander Silvers. Silvers plans to kill the test subjects, so Lian kills him first. When she returns to Elsa, Lian finds her gone.  
Hadden accuses Gabe of deception and corruption. He accuses Gabe of his belief that Logan murdered Teresa Lipan, but Teresa surprises him by physically appearing herself. Chance had only injured her, not killed. She describes her first meeting with Gabe during her time as an officer with the Bureau of Alcohol, Tobacco, and Firearms. A group of NSA agents headed by Colonel Silvers were posing as FBI to eradicate a private militia that had recovered data from a government satellite. Gabe, as an Agency operative, saved her life, and helped her when she rescued the wife and son of the militia leader. She left the ATF and joined the Agency. 
Teresa faked her death to find the people behind the Agency. Her investigations into Aramov yielded a connection to Vince Hadden himself. Before Gabe can arrest him, Mara kills Hadden. She and several consortium terrorists take over the Senate building, but Gabe prevents her from detonating any explosives. He chases her onto a train full of hostages, and wounds her, believing it is enough.  
In a post-credits cutscene, Mara escapes later on. Gabe promises he will find her, but for now the Syphon Filter crisis appears to be over since the death of Hadden. Having been exonerated of any pending charges by incarcerating Mara, Gabe will become the new Agency director, and free it from corruption. Little does he know that an operation is ongoing near the S.S. Lorelei's wreck site. People are recovering the viral crates.
Characters
Erich Rhoemer (flashback)
Edward Benton (voice only)
Ellis (flashback)
Anton Girdeux (cameo)
Multiplayer
Main article: Syphon Filter 3 Multiplayer
The Multiplayer mode made a return in Syphon Filter 3 where it performs in just the same way as it did previously. It even uses all of the same characters from Syphon Filter 2's multiplayer, however some character models have been updated to their SF3 counterparts. This time Multiplayer has a total of 27 characters and 11 Maps (5 available from the start and 6 unlockables).
Missions
Trivia
Due to the September 11th attacks in 2001 , the cover art was changed from Gabe and Lian in a fierce firefight in front of the United States Flag to a frontal image of both characters. Copies that featured the original artwork were pulled from shelves, some claiming they were destroyed. The cover art remains unchanged however for the PAL release, though the United States flag is absent in the background.[1]
The font used for the game's logo is a slightly modified version of industria font.
It is so far the only Syphon Filter game that, with the exception of the last two missions, is a prequel rather than a sequel.
It is the first game to introduce Teresa Lipan and Lawrence Mujari as playable characters.
Last game to run on the PS1.
Goofs
Anachronisms
During the Pugari Investigation, which takes place in the "Mpumalanga Province, South Africa," in 1984, this region was actually called "Eastern Transvaal," and was renamed "Mpumalanga" in 1995 after the fall of apartheid caused restructuring of South Africa's provinces.
During the Soviet-Afghan war in 1987, Gabe raids an Afghan rebel fortress that has the green/ white/ black tricolor Afghan flag with the gold Shahadah logo hanging on a wall. This flag was not adopted until 1992, when the communist regime collapsed.
Factual errors
Teresa injects Debbie Oakton with Terbutaline to delay her labour and the drug takes effect in a matter of seconds. It would require at least fifteen minutes to take full effect in reality.
The manual incorrectly states that Lawrence Mujari was a soldier for the "African National Council" in 1984. Although in-game, Mujari simply testifies that he worked with the "ANC", he is most likely referring to the African National Congress; and more specifically, their militant wing: Umkhonto we Sizwe (Zulu for "Spear of the Nation").
If Hadden has called Gabe and his team to testify (and, presumably to tell the truth), it would be illogical for Logan to lie that he had 'never assassinated a world leader', as he claims is the answer to Hadden's question.
Since Teresa was legally deceased as evidenced by the end of the previous game, her testimony should be in reality rendered useless to exonerating Gabe and Lian from being considered criminals.
In the briefing to 'Convoy', Gabe testifies that 'I only hoped that they had not blown the bridge one click north'. The word 'click' should be 'klick', which is another word for 'kilometer' in military terminology.
While it may conceivably be possible to destroy a main battle tank using C4 charges in gameplay, there would be numerous factors to account for in a true combat scenario. Any armoured vehicle would be defended by waves of infantry members, not to mention the arsenal such a machine carries. The T-64 is armed with three main weapons: a 125-mm 2A46M smoothbore cannon, and a pair of machine guns: a 7.62X54mmR coaxial automatic weapon, and a 12.7mm NSVT dual-purpose anti-aircraft/heavy machine gun. Even the crew members would be armed with pistols, carbines, shotguns, submachine guns or other firearms with a reduced length. Furthermore, the tank itself would also be equipped with explosive reactive armour - an element of explosive reactive armour consists of a sheet or slab of high explosive sandwiched between two plates, typically metal, called the reactive or dynamic elements. On attack by a penetrating weapon, the explosive detonates, forcibly driving the metal plates apart to damage the penetrator. Against a shaped charge, the projected plates disrupt the metallic jet penetrator, effectively providing a greater path-length of material to be penetrated. Against a kinetic energy penetrator, the projected plates serve to deflect and break up the rod. In a real circumstance, when one would need to demolish armour, a Javelin missile launcher would be the most realistic anti-tank weapon.
The SPAS-15 is bizarrely loaded with 'fragmentation' rounds that explode on contact, making an already overpowered weapon even more devastating. The weapon is available in multiplayer, and the idea of an automatic mini-grenade launcher with pin-point accuracy that can kill you with a single hit is as overpowered as it sounds.
The scope on the Steyr AUG appears to be mounted higher than it is in real life.
The M16A2 world model strangely appears without the stock or buffer tube modeled (which would in theory, restrict it to single shots). Additionally, the weapon still fires in both bursts and full-auto, the latter of which this particular model is incapable of doing.
Miscellaenous
The weapons menu incorrectly uses the picture of the Combat Shotgun from the original Syphon Filter to represent the standard Shotgun.
Plot holes
Gabe somehow leaves the hearing midway through the game during Lian's testimony to sink the Lorelei, and security personnel apparently fail to notice his absence until he comes back. Given the circumstances that Hadden orchestrated, he would be under a heavy escort when absent from the hearing room.
Mara somehow survives being shot in the head a second time.
Lawrence Mujari testifies that he worked for the ANC (the African National Congress), which was designated a terrorist organization by the United States in 1961 until 2008. At the game's epilogue, he has somehow become an operative with Gabe Logan's reformed agency, the IPCA. It is highly improbable, given his past, that Mujari would be allowed to work for the U.S. government without extensive legal hurdles, including whether or not he was legally naturalised - a requirement for foreign-born U.S. government employees.
If Mujari claims he has a deep personal aversion to violence and kills only in self-defense, why would he carry out a lethal massacre during his flashback missions in South Africa? (A similar mistake occurs in Syphon Filter: Omega Strain, in which he uses an Advanced Combat Rifle when on the Lorelei salvage rig)
Retcons
During the game's starting cutscene, the end of Syphon Filter 2 is re-enacted. In this sequence, Mara's conversation with Hadden (and the latter's model) changes from the SF2 version.
 When Hadden asks Gabe if he ever assassinated a world leader, Gabe's scope is pointed at Shi Hao, and nobody else is seen inside the room, but in gameplay, there are guards and a hostage in the room, along with the general.
In the flashback with Rhomer killing Ellis the dialogue in this game is different from the original depiction and it lacks Anton Gideux.
Revealing mistakes
When Gabe attempts to kill Rhoemer on an aeroplane, the vehicle is not a C5 but in fact a C130 Hercules.
External Links
Gallery
References